Hi everyone! Welcome to another blog post on Rishi Theme. In this article, I will share details about How To Speed UP WordPress Website Using Rishi Theme.
If your website is also using Rishi Theme, this article is for you because I will share the best setting and required plugins to Speed UP your WordPress Website .
Before moving to the best settings, let me tell you some more important things that are highly required to enhance your WordPress website speed-
To make your website speed better, the most important you must have better hosting.
Choose the right plugins and themes for your website.
Decide a proper image size for your website.
Use a CDN for more speed.
You should delete those themes and plugins that are no more required.
Those were important things to remember while doing WordPress Speed Optimization. The next question is why we should Speed UP WordPress Website . So, let's understand.
Why Speed UP WordPress Website Is Required
I know you are aware of the term SEO, and you may also know that SEO is not only a single topic but a course itself.
We know that SEO stands for Search Engine Optimization, which means that in this course, we understand the behavior of any search engine. We optimize our website in such a way that search engines consider our website is the best website.
Best Rishi Theme Customization
Search engine optimization is divided into three categories the first one is Onpage, the second is Offpage, and the last is Technical SEO. Speed optimization is also a part of Technical SEO, so it is vital to optimizing our website speed as per the search engine requirement like Google.
If your website is optimized as per the Google norms, it is an excellent signal to Google for your website.
Speed optimization is essential to rank in Google because it reduces the bounce rate of users, which signals to Google that your website is serving the best content to the user; therefore, google will recommend your website.
It is required to increase website speed to enhance the user experience on your website.
According to Google, the ideal loading time for your website is when your website speed ratings on page insights are between 90 and 100.
If your website takes more than 2 seconds to load, you must fix this as soon as possible. The more speed your website has, the more ranking you will get in Google SERP.
The Best Settings Of Rishi Theme To Speed UP WordPress Website
Let me tell you one best thing about the rishi theme. This theme is super light and core web vital free, which means this theme is required fewer plugins to Speed up WordPress Website.
In terms of speed, this theme competes with the top market themes like Astra and GeneratePress. In comparing theme speed on the same website with the same content, hosting, and plugins, Rishi Themes beats both Astra and GeneratePress. See the stats below-
If you are using Rishi Theme, you can set your website like mine, which I believe is the best setting. To do so, you can visit this post via the link given below-
Read Also: https://rishitheme.in/rishi-theme-review/
The Best Plugins For Speed Up WordPress Website
After setting the theme, the next step is to install the required plugins. Three plugins are highly recommended to install if you want to Speed Up Your WordPress Website.
Image Optimizer
Font Manager
Cache Plugin
These three plugins will play an important to speed up your website. You must have at least two of them, the first and the last Cache plugin.
Image Optimizer Plugin
The images we upload are usually in jpg or png format, which takes more space, increases the server load, and results in site load slower.
These plugins will optimize the images and change them to the next-generation image format Webp, which is lighter than any format. Google recommends that you should keep webp format for your website. Here are some top recommended webp converter plugins you can use anyone.
Font Manager
These plugins load the fonts locally in your browser. Once you hit the URL, this plugin creates a cache of your font in the browser and loads them locally instead of loading from the server. You can use OMGF plugin that is one of the best plugin in the market.
Cache Plugin
I hope you have an idea about how the cache plugin works because this is one of the plugins that play a 90% role in the speed optimization of any WordPress website.
There are several plugins available on WordPress Store for free. Most of the plugins have both free and premium plans. But some cache plugins are fully paid, like Wp-Rocket.
You can optimize your website speed using either, free or paid. The benefits of Premium plugins are they give extra features that optimize your website to the next level. There are some top-level cache plugins given below-
| Plugins Name | Total Installations | Reviews | Paid/Free |
| --- | --- | --- | --- |
| Wp-Rocket | 2 Million+ | 2311 | Paid |
| Lite Speed Cache | 3 Million+ | 2006 | Free |
| WP Super Cache | 2 Million + | 1294 | Free |
| W3 Total Cache | 1 Million + | 5021 | Free |
Best Cache Plugins For Speed Optimization
If you ask my recommendations I would be saying WP-Rocket is best. Even on this website I am using the same plugin and here you can check the performance.
Check The Speed Of Rishi Theme
Depending on your pocket, you can go with either free or fully paid plugins. Usually, these plugins are costly. For a beginner, it is challenging to purchase them.
But what if I tell you a place where you can get not only plugin but also any wordpress asset for almost free? Here you can get genuine products at a very affordable cost. For example, purchasing WP-rocket from the official website will cost around $50 for a single website, which is almost 4000 Indian rupees. For any beginner, it is not affordable. But here you can get this For 350 rupees only.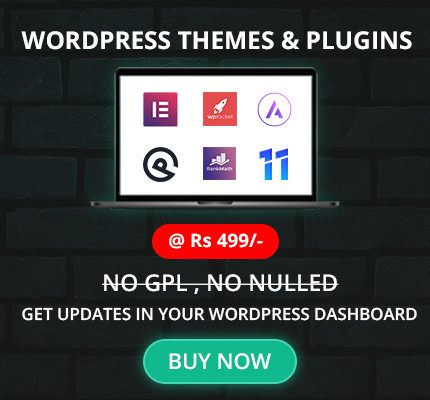 Best Settings Of WP-Rocket For Better Speed
If you want your website to become a rocket, follow these settings in WP-Rocket Dashboard.
Open Settings of Wp-Rocket.
You will see the Rocket Dashboard. Click on CACHE.
Under the cache ☑️ enable caching for mobile devices and click "Save Changes."
Now, click on File Optimization and enable all the below options.

☑️minify CSS file
☑️combine CSS file
☑️Optimize CSS delivery
☑️Minify Javascript File
☑️Load Javascript Deferred
☑️Delay Javascript Deferred

Then click on "Save Changes."
Next is Media under this section ☑️enable everything and click Save Changes.
Afterward, go to CDN and ☑️enable the content delivery network and provide CNAME to connect CDN.
For Image Optimization, WP-Rocket has made a plugin Imagify that has free and paid plans. Please install and Activate it.
This is how you can set your WP-Rocket plugin for better speed. If you still facing issues while Speed UP WordPress Website You can book our speed optimization service from the Services page.
Use A Powerful Hosting Like Cloudways
If you are serious about the performance of your website, you must use powerful and quickly responsive hosting. Use cloudways hosting on your website, which is one of the best cloud hosting providers in the Industry.
The plans of cloudways are affordable. You can start with only 10$ a month. You can create hosting on platforms like AWS, Vulture, Linode, Digital Ocean, etc. Create your server as per your requirements. If you want to read more about cloudways hosting, you can read this article-
Why You Should Buy Cloudways Hosting
Connect CDN (Content Delivery Network)
Connecting CDN with the website is very important because CDN helps to load the website from the nearest server location. This technology keeps your data to the original server and, using caching, distributes the data closet to the user location. It is free as well as pro plans; free is enough for any beginner no need to go pro.
Final Verdict
This was all about Speed UP WordPress Website. Here we have explained the idea of how you can optimize your website and what are the basic settings to do in order to fix the speed issue. I hope this article will help you to optimize your website.
Finally, I would say for the better speed of the website your hosting must be robust. I would suggest using cloud hosting instead of using shared hosting because these hosting creates a very negative impact on our website.